WOODEN FURNITURE DESIGN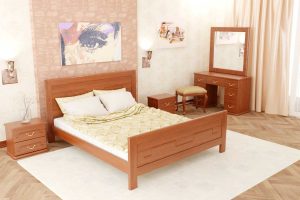 Furniture design development is one of the most important areas of the Furniture Paradise company. The company's specialists approach this process with maximum responsibility. To make wooden furniture stylish, comfortable and functional, it is important not to miss a single detail. All furniture sold is carefully monitored at every stage of production and pre-sale preparation. These measures minimize production defects. We are confident in the quality of our products, therefore, we provide the maximum warranty period for products.
Wooden furniture to order
Sketch of wooden furniture Often, customers are asked to create furniture according to their own sketches or photos. If a sketch is not provided, then we draw up a product design based on individual preferences and customer parameters. Only after the final coordination of the project with the customer, the company's specialists send the order to production.
Wood is one of the most popular materials used to produce high-quality furniture for the home and beyond. It is environmentally friendly and durable. Often products are purchased for the arrangement of hotels, hotels, kindergartens, schools. Such items fit perfectly into the interiors, made both in the style of the classic and in the modern.
Based on the wishes of the customer, wooden furniture can have various parameters: shape, dimensions, color and configuration. The site "Furniture Paradise" presents a lot of ready-made solutions that are available to order right now. If you want to furnish your interior with more exclusive and creative products, we are ready to provide many design solutions. It can be models containing: sharp or rounded corners, turned elements or art carving. Do not forget about possible experiments with the color scheme of the product. Our site offers a wide color palette: from dark saturated tones to light airy shades.
Furniture design using artistic carving
For centuries, elements of artistic carving have been considered one of the most expensive and luxurious design options. They are made in the form of intricate patterns, which gives any product an original stylish look. There are three main types of carving that can be used for decoration: blind (not transparent), through (the surface has through holes), sculptural (sculptures of animals, people, birds). They have their own distinctive features. But their main similarity is that they adorn furniture of any stylistic orientation. Consider the main features of each type of thread in more detail.
Design of wooden furniture with turned elements
Turned elements are another type of decoration that is used by specialists of our company. For their manufacture, special machines are used. Usually chiseled elements adorn the head of the beds, legs of chairs, stools and tables. A variety of patterns and ornaments are used as a pattern for precision machining. Furniture looks stylish and luxurious, which combines both carving elements and chiseled elements.
Solid wood furniture color
On the website of the company "Furniture Paradise" a wide palette of colors is presented, among which you are guaranteed to find the right one. To cover the furniture, we use safe and resistant varnishes, which not only extend its service life, but also retain their original appearance for many years.
Wood furniture can be coated with colorless varnish, which will preserve its natural color and emphasize the texture. In addition, you can choose more saturated and rich colors or choose a more calm shade. Paints and varnishes used in the production are able to give any product a glossy shine or vice versa a matte shade.
Please note that the color shown in the photo corresponds to the real one. Dark tones are best chosen for the design of spacious rooms. The site manager is ready to provide relevant information on each shade option and help you choose the most suitable one.
Modern design of wooden furniture
Designs of modern wooden furniture are very diverse. We single out the main and most relevant trends of modern design. Fashionable finishes, first of all, involves the use of expensive materials. Solid wood, in itself, is not a cheap material, so if you want to give the product an individuality, we recommend choosing the appropriate design. The most recent trend is timeless classic. When decorating, a combination of smooth lines with straight lines is used. As for varnishes, both color and colorless varnishes are in fashion. Metallic shades and gloss are especially popular.